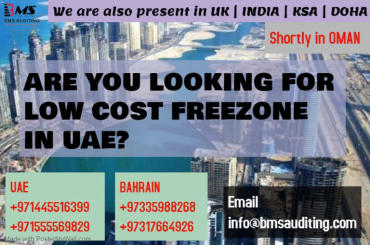 Dubai
30 Oct 2019
Low cost Freezones in UAE
The Freezones in UAE has already secured praise among investors. The Freezones in UAE gives a lot of infrastructure and business aid to the investors. Currently there are more than 40 Free zones in the UAE.
The Freezones in the UAE gives a pool of benefits for its investors. The most important among is 100% ownership of the business entity, profit repatriation, tax-free environment, secure banking system, world-class infrastructure, easy and fast business setup, etc.
When it comes to the establishing a business in UAE and its cost the Freezones in Dubai comes at a premium. There are a couple of cost-effective Freezones in the UAE that offer unbeaten business setup solutions and infrastructure to set up your company and run it profitably.
Comparatively cheap Freezones in UAE which offers similar infrastructure and business benefits as of other the Freezones.
1.International Freezone Authority (IFZA).
The International Freezone Authority (IFZA), Fujairah is one of the most low cost business centers in the UAE. IFZA offers a host of profitable solutions for setting up your first business in the UAE. Customized approach and cost-effective business solutions making IFZA as one of the cheapest leading business hub in UAE.
Benefits.
Easy and rapid incorporation and company management.
A wide range of business activities including Consultancy, Service and Trading options.
Business owners don't have to be physically present during the incorporation process.
Companies have limited liability.
No foreign currency restrictions.
Can incorporate holding companies.


2.Ajman Media City Free Zone.

One of the fastest growing Freezone in the UAE, Ajman Media City Freezone, is one of the most competitive business centers low cost business setup services and world-class infrastructure. It is one of the newly established and fastest growing free zones and provides a cost-effective platform to media agencies and creative people who are looking for a profitable business setup.

Benefits.

Foreign Ownership.
Zero Corporate or Income Tax.
Many Business Activities in One Licence.
Quick and Rapid License Issue .
Quick and easy Registration Process.


3.Ras Al Khaimah Economic Freezone (RAKEZ).

RAKEZ is a cost-effective powerhouse of business and an industrial hub with customizable solutions for business establishments to establish your dream company. RAKEZ provides Cost-effective business set-up packages, ultra-modern features and facilities, and first-class services. Freelancers, startups, industrialists makes RAKEZ one of the cheapest free zones in the UAE.

Benefits.

Customized packages providing smart solutions.
Easy access to global markets.
Cost effectiveness.

BMS Auditing is one of the leading Auditing firms in UAE. We can help you in establishing your business setup in these Freezone.