On October 3, 2022, the 10-year Golden UAE Visa was initiated for the benefit of the investors. Since its implementation, the Golden Visa has spread out among most expatriates planning to obtain permanent residency in the UAE. The Golden Visa scheme is part of a broader strategy to attract foreign investment and talent to the country and promote innovation and entrepreneurship. It also aims to enhance the UAE's reputation as a global hub for business, tourism, and culture.
Through this article, we guide you through the UAE Golden visa process, eligibility, document requirements and its benefits.
UAE Golden Visa
The UAE Golden Visa is a long-term residency program for foreign talents to settle, study or work in the UAE and enjoy the exclusive benefits offered. It allows eligible foreigners to stay in the country for up to 10 years without the need for a local sponsor and offers various benefits and advantages. There is a wide range of people who are eligible for the Golden Visa, and among these are scientists, students, sportsmen, inventors, entrepreneurs, business owners, and people who put in a lot of effort during crises such as the COVID-19 pandemic.
Moreover, the UAE authorities have launched another addition to the eligible categories of the Golden visa. Apart from the generally skilled professionals category, the Abu Dhabi government allows eligibility to these types of specialists:
Senior scholars and clerks

Leading specialists in the industry

Specialists from the healthcare and education industries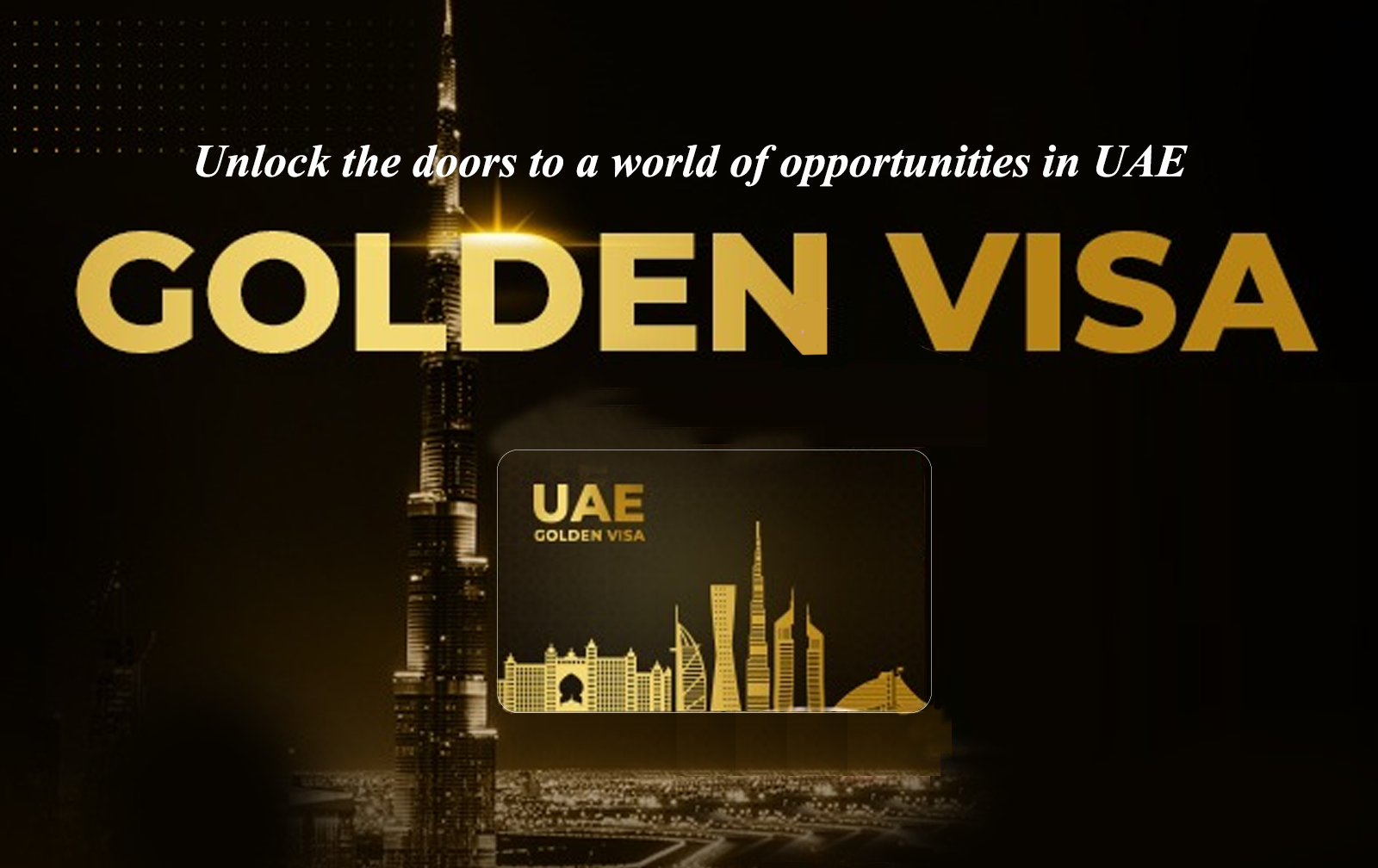 Benefits of Golden Visa UAE
The Golden Visa program is implemented to engage foreign investors and professionals in the country. It has exceptional benefits to offer visa holders, such as working and living in the country, accessibility to high-quality education and healthcare, and sponsoring their family members to get residence visas.
Here are the major benefits of the Golden Visa in the UAE:
6 months entry visa with multiple entries followed by the issue of residency permits

Ability to stay outside the UAE without getting the visa canceled

Self-sponsored visa

Sponsor their family members, including spouses and children irrespective of their age

Sponsor their parents for a 10-year residency without additional deposits

Sponsor as many domestic helpers as they wish
Besides, a Golden visa in the Dubai and Abu Dhabi has its own advantage on the emirate level. Let's look at it.
Golden visa benefits in Abu Dhabi
The Golden visa holders in this emirate are eligible for discounts and offer on cars, property, healthcare, health insurance, and banking services. The Resident's office has joined respective companies across various industries to provide the incentives.

Under the commercial partnerships of the Abu Dhabi Resident Office, the golden visa




holders would be eligible for discounts on specific properties from the developer- Imkan Properties

The visa holders are also eligible for reduced premiums on annual health insurance plans for families and individuals with various network coverage and a great set of benefits both inside and outside the UAE.

They also receive special offers for dining, spa, gym, and stays at a few selected hospitality
Golden visa benefits in

Dubai
As declared by the authorities, foreign residents in Dubai with a golden visa and a driving license from their respective home country would now be eligible to take the driver's test in the UAE without extra lessons.
Besides, golden visa holders with licenses from one of the 32 approved countries including the US, the UK, Australia, Saudi Arabia, South Africa, New Zealand, Qatar, and Ireland would be declared eligible for the UAE driving license.
H.H. Sheikh Hamdan bin Mohamed bin Rashid Al Maktoum declared that the 10-year residency Golden visa would be granted to the outstanding expatriate students and their families living in Dubai.
Esaad Privilege Card
Golden visa holders in Dubai would be gifted the most desirable Esaad privilege card. This card is free of cost for residents holding 5-year and 10-year Golden visas in Dubai. The Esaad Privilege Card is an added bonus for eligible individuals who are granted the Golden Visa and can help make life in the UAE more convenient and enjoyable.
The Esaad Privilege Card provides a range of benefits and discounts to cardholders. These benefits include priority service at various government service centers, access to exclusive events, and discounts at hotels, restaurants, and other participating businesses. The Esaad Privilege Card is only available to Golden Visa holders and can be obtained through the Federal Authority for Identity and Citizenship (ICA) after the Golden Visa has been granted. The card is valid for two years and can be renewed along with the Golden Visa.


Health Insurance Benefits of UAE Golden Visa
The medical insurance offered through the Golden Visa program in the UAE is part of the government-sponsored health insurance with Daman. The insurance coverage includes inpatient hospitalization, outpatient medical consultations, laboratory and radiology services, and emergency treatments. It also covers a wide range of medical conditions and illnesses, including chronic diseases. Golden Visa holders can avail of this medical insurance coverage for themselves and their families, which provides them with peace of mind and financial security.
Who is Eligible for UAE Golden Visa?
To be eligible for the UAE Golden Visa, there are certain requirements that an individual needs to meet. The eligibility for UAE golden visa is based on the category in which the individual falls. The following are the categories of people eligible for the Golden visa in the UAE:
Investors: To be eligible, investors must have invested at least AED 10 million in a public investment fund or in a company based in the UAE.
Real Estate Investors: A person who owns one or more properties whose value is not less than 2 million dirhams.
Outstanding Special Talents: Individuals including doctors, scientists, inventors, athletes, etc specialized in subjects like AI, Epidemiology, engineering, genetics, etc.
Entrepreneurs: Entrepreneurs must have a previous project with a minimum of AED 500,000 or the approval of an accredited business incubator in the UAE.
Outstanding students (College or Highschool): UAE Highschool students with a score above 95% can apply for 5 year Golden visa and can be extended based on the graduation period. For graduates, outstanding students with a minimum grade point average (GPA) of 3.75 or higher from universities inside or outside the UAE may also be eligible for the 10 year Golden Visa.
Pioneers of humanitarian work: You may get a Golden visa for 10 years if your members and outstanding employees have worked for international and regional organizations for a minimum of five years and do not fall under two million UAE dirhams or its equivalent.
Highly skilled professionals: Professionals with specialized talents in medicine, science, engineering, and other key industries can also apply for the Golden Visa. They must have a minimum of 10 years of experience in their respective fields.
Scientists: Scientists who have been recognized by the Mohammed bin Rashid Academy of Scientists may also be eligible for the Golden Visa.
Creative individuals in culture and art: Creative individuals such as artists and authors who have a regional or international reputation and awards or their contributions documented by reputed entities in their field of work may also be eligible for the Golden Visa.

Sports professionals: Professionals in the field of sports who have achieved significant athletic achievements or contributed to the promotion and development of sports in the UAE may also be eligible for the Golden Visa.
Note: For more insights, you can look up here
Can I get a 10-year Golden visa residency with a 30,000 Dh salary?
As per the authority, You can apply for a UAE golden visa with a monthly salary of 30,000 Dh and appropriate documents under the employment category only for those who met the following conditions,
1. To acquire a work permit in the country based on a valid employment contract.
2. To be a skilled employee at the first or second professional level, according to the MoHRE-approved job classification.
3. A bachelor's degree or its equal is required at the minimum educational level.
4. The monthly salary must be at least Dh30,000 or in foreign currency.
5. Possess a license to practice as a doctor, chemist, teacher, or other Golden Visa approved profession.
How to apply for a Golden Visa UAE for front liners?
Frontline heroes include medical assistants, nurses, pharmacologists lab technicians, and other cadres who displayed extraordinary effort in crises, such as the COVID-19 pandemic can apply for Golden Visa in UAE through the GRDFA Portal. However, the frontline heroes must be approved by the Frontline Heroes Office. The steps to obtain Golden Visa are given below.
How to Obtain a Golden Visa in UAE?
The visa application process for UAE golden visa is simple and can be done in two ways.
Once the candidates verify their eligibility can apply for the Golden Visa through the GRDFA- Dubai Smart Application. You need to follow these steps:
Apply through

GRDFA

(General Directorate of Residency and Foreigners Affairs)- Dubai through the app store- AppleStore/Google Playstore

Register with a new user account (if you are a new applicant)

Select the service you need

Attach the relevant documents

Pay the fees for the selected service

Submit the request
Another option is to apply through the AMER center. These are the steps to be followed:
Visit the preferred service branch of Amer Center

Ask for the service you need at the reception

Submit the documents required

Verifying documents

Pay the fees for the service

Submit the application
Documents Required to acquire UAE Golden Visa
Here are the documents required to obtain a Golden Visa:
Passport

Birth Certificate

Marriage Certificate

Non-marriage certificate for children above 18 years of age

No-Criminal record certificate from the country of citizenship

Good Conduct Certificate addressed to the Dubai Land Department

Medical Insurance

Medical Fitness Certificate

Photo of the applicant

Current UAE Visa

Letter of submission from Federal Tax Authority

Provision letter from concerned authority (if needed)
Individuals who apply for a Golden Visa in the UAE must provide proof of financial stability, such as bank statements or financial records showing their ability to support themselves and their dependents in the UAE. If the applicant is applying under the investor category, they must provide documents proving their ownership of a business or their investment in a UAE company.
To prepare your financial report for a golden visa and acquire a letter of submission from the FTA or Emirate authorities, you may require auditors of UAE to prepare it. We, BMS Auditing have remarkable audit services for UAE Golden Visa to help you get the required documents and acquire a golden visa in the UAE with ease.
UAE Golden Visa Services
BMS is one of the UAE's most recommended Golden Visa service providers. Our team has great expertise in creating a robust profile to apply for the Golden Visa as you need to fulfill the eligibility criterion put forth by the concerned authorities. We help you throughout the application process for the Golden Visa and assist you in obtaining its possible benefits of it.
Are you ready to get your Golden Visa? Have any queries? Call Us NOW!! We are here to clarify your issues!!