BMS conducts the most effective and strategic feasibility studies in Dubai for your Business with a highly experienced and knowledgeable audit team. For quality feasibility study services in Dubai, you can always rely on and consult with BMS Auditing Dubai.
A business can do a feasibility study of its own, however, it is important to have a core understanding of feasibility study as the feasibility study consultants do. So, let's take you into some of the important features that you should know about it.
For every organization, Feasibility Study is a critical component for evaluating the viability of completing the project successfully and on time. A business or an organization optimally uses feasibility studies to detect the probable negative and positive results of a project. It is suggested to perform a feasibility study before you invest huge money and ample time in it.
If you thoroughly research and execute the feasibility study, then the right way, it would help you find the probable issues during the implementation of the project, by observing the financial, operational, and other potential organizational effects.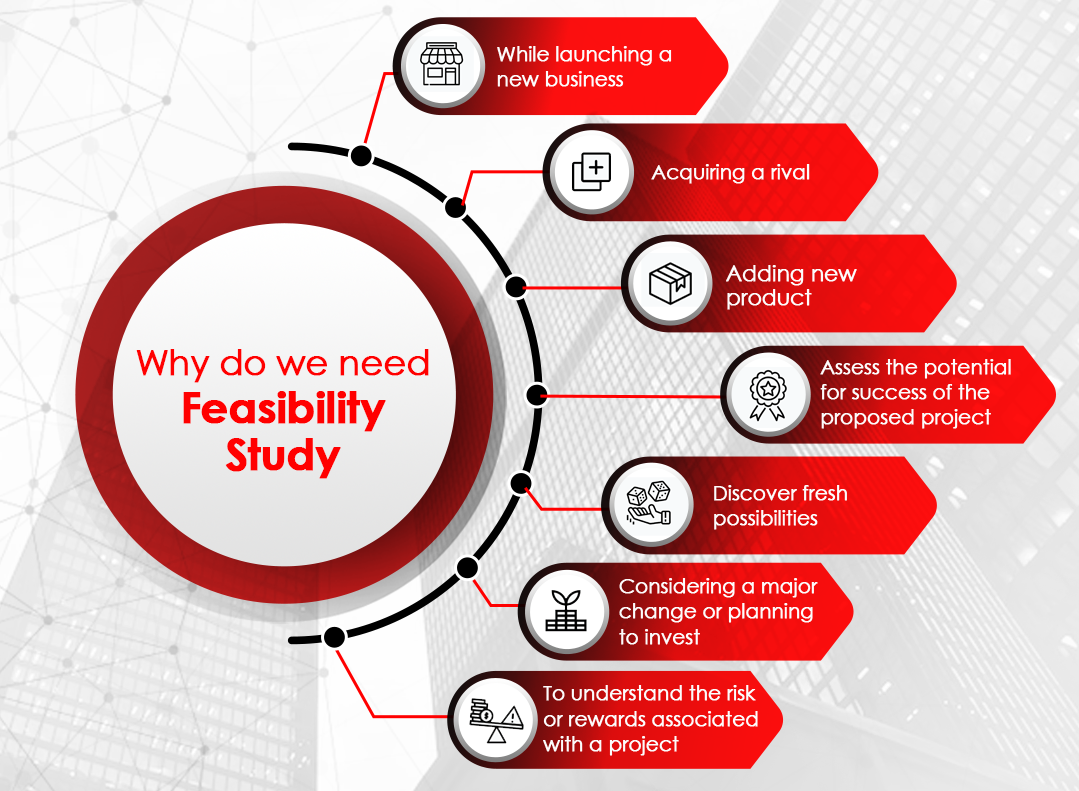 Components of a Feasibility Study Report
Our feasibility study in Dubai creates reports comprised of the following components:
Project Review

: An outline of the project, products/services provided, business model, and mode of delivery

Market Prospects

: Denotes the potential buyers, competitors, industry, future and present market perspective and sales evaluations

Technical Feasibility

: Data about the delivery of a product or service, including labor, raw materials, transportation, technology, business locations, etc.

Financial Feasibility

: Forecasting the required funding, fund types, and estimated P & L, Balance Sheet, Cash Flows, etc. also includes estimations made in the study, analysis of responsiveness, and graphical representation of the vital financial data

Organizational Feasibility

: Description of the corporate and legal structure of the company, including information about the founders, history and skills that help the company continue the operations
At BMS Auditing, our feasibility study services in Dubai deeply focus on the business model of the clients, and customers, with intense knowledge of technology, and a clear understanding of the critical data. Our Feasibility consultant team in Dubai has excellent interpersonal skills, multitasking, and organizational skills, along with analytical, observational, and critical thinking.
BMS conducts independent market research, with its own resources, and hence works with the top market research companies in the UAE for unique market data, which forms the base for an ideal feasibility study.
The BMS team provides a complete package of reports and presentations to the clients, accompanied by detailed financial models created using spreadsheets.
At BMS, we assist you in evaluating the chances of success, thus providing confidence to the investors to participate in your business in the future.
Need Help with a Feasibility Study for your business? BMS is here to assist you!