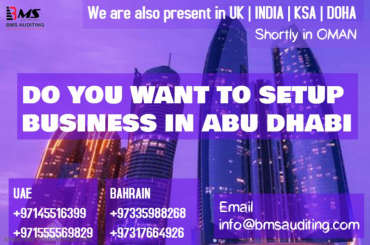 Abu Dhabi
01 Nov 2019
Business in Abu Dhabi
Abu Dhabi is one of the wealthiest countries of the UAE in terms of Gross Domestic Product (GDP) and per capita income. Abu Dhabi is the federal capital of the United Arab Emirates and the largest of the 7 emirates. Abu Dhabi occupies more than 80% of the country's total land. There are several free zones in Abu Dhabi, which offer a good atmosphere for business setup and provide a pool of opportunities for foreign investors.
Free zones in Abu Dhabi are a part of the Emirate's economic diversification initiative to boost the indigenous economy and promote foreign investment. Business setup in free zones comprises primarily media and light companies, logistics companies, and medium & heavy industries. There are many stimulus and facilities that shareholders receive by setting up a company in Abu Dhabi free zones, which drives to form company in Abu Dhabi.
Benefits of Company Formation in Abu Dhabi.
1.100% foreign ownership.
2.Full return of profits and capital.
3.Zero import or re-export duties.
4.Zero personal income tax.
5.Zero currency restrictions.
6.Zero restriction on foreign talent or employees.
7.Business-friendly legal framework and company laws.
List of Freezones in Abu Dhabi .
1.Abu Dhabi Airport Free Zone (ADAFZ).
2.Twofour54.
3.Abu Dhabi Ports Company (ADPC) Free Zone.
4.Abu Dhabi Global Markets Free Zone (ADGMFZ).
5.Industrial City of Abu Dhabi.
6.Higher Corporation for Specialized Economic Zones .
7.Khalifa Industrial Zone Abu Dhabi (KIZAD).
Process of setting up a business in Abu Dhabi free zone.
1.Choose the type of business activity.
2.Register trade name.
3.Obtain approvals from the freezone authority.
4.Issuance of License.
Documents Required to form a company in Abu Dhabi Freezone.
1.Company Application Form.
2.shareholders Passport copies.
3.Passport size photographs .
4.Specifications of the business activity.
5.Number of visas required2 x Proofs of Address .
6.Bank Reference Letter.
If you are planning to set up business in Abu Dhabi free zone the Abu Dhabi Free Zone is a best option. BMS Auditing can help you to know about all company formation rules and regulations in Abu Dhabi free zones.Contact us to setup your dream in Abu Dhabi, our team will help you fulfil it.