Bahrain is known for its strong financial services sector and has a well-established accounting and audit industry. The country is home to a number of international accounting firms, such as the Big Four (BMS Auditing, EY, KPMG, and PwC), as well as local firms that offer accounting, auditing, and related services.
Auditing, Accounting and Bookkeeping are crucial elements when you run your own business or a large organization that has an increasing financial structure. It ensures financial stability and helps enhance the overall performance of the company. You could choose an internal audit or hire a team to conduct an external audit.
The demands for accounting and audit services in Bahrain are strong, as the country continues to attract investment and expand its financial services sector. However, the specific market demand for individual accounting and audit firms can vary depending on a variety of factors, such as the firm's reputation, expertise, and pricing.
It's important to do thorough research and choose an ideal firm that has the expertise and experience in your specific industry. There are many reputable firms offering quality auditing and accounting services.
Top Accounting and Audit Companies in Bahrain
The best audit and accounting firms in Bahrain help businesses manage their finances by providing services such as,
These services can be holistically offered by only top firms in the country to ensure they are accurate and follow regulations, manage tax obligations, give advice on business decisions, and help businesses optimize their operations.
Here are some of the top audit firms in Bahrain.
1. BMS Auditing
BMS Auditing ranks top among the best audit and accounting firms in Bahrain in offering the most reliable auditing, accounting, Tax, and business services. It has branch offices in GCC territories and other countries in the world, specializing in Accounting, Taxation, and Business Consulting. It is one of the top auditing and accounting firms in Bahrain that provides various auditing and accounting services to businesses and organizations.
BMS has a remarkable history of serving clients from various countries and has impressive testimonials for its incomparable services. Compared to others, BMS Auditing is known for its quick response, timely delivery and extended support. Although being an international audit firm, BMS has a local presence in Bahrain where you can visit, consult and book your service at your ease.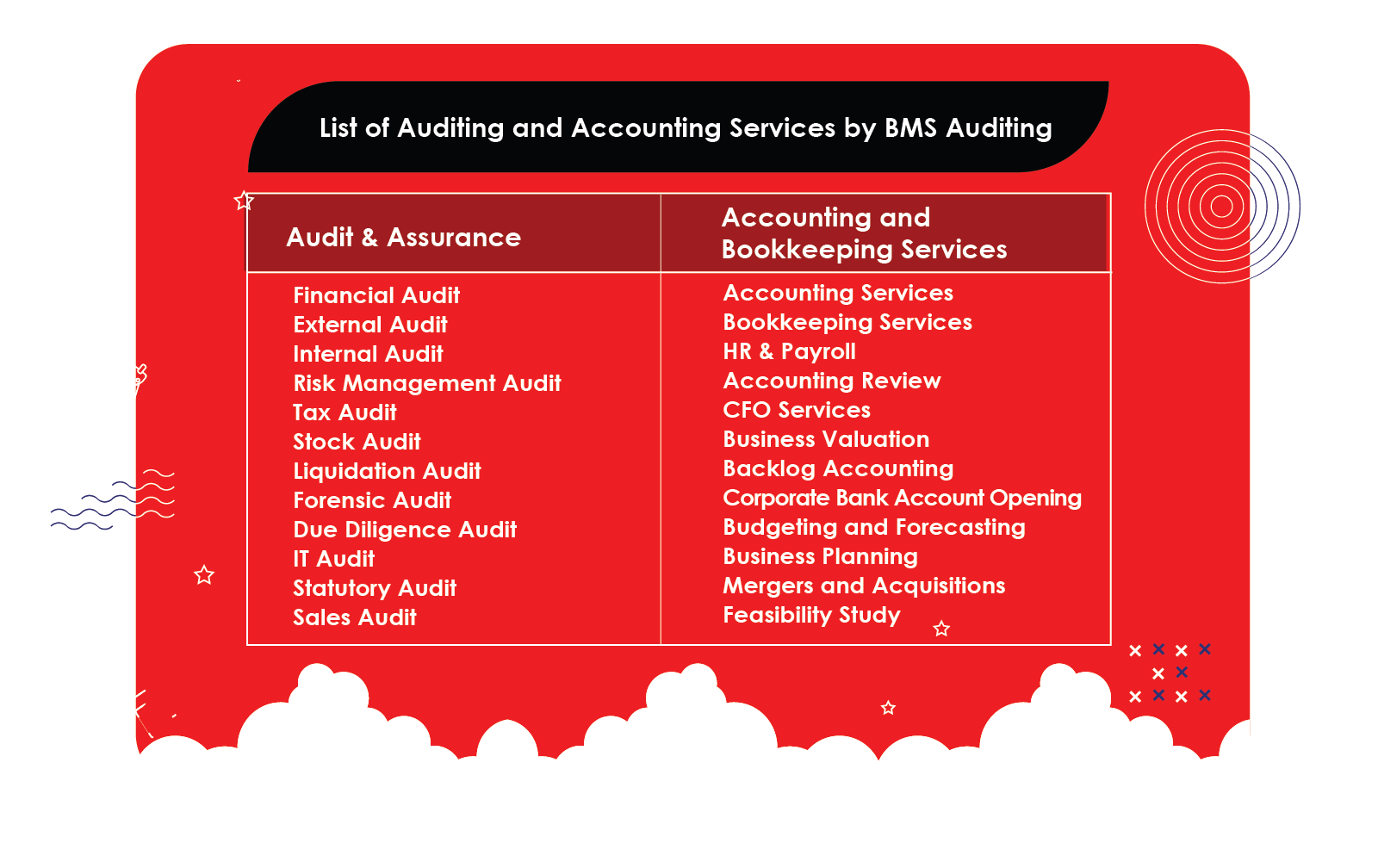 The firm provides personalized audit techniques based on client businesses- size and the industry they belong to. The tax experts at BMS ensure that clients comply with the country's rules and regulations.
Contact Detail of BMS Auditing Bahrain
2.

KPMG
KPMG is yet another global accounting and professional service provider in Bahrain providing Audit, Tax, and Advisory services to clients in various industries. The team helps clients to minimize risks and take advantage of opportunities.
3. PwC (PricewaterhouseCoopers)
PwC is a global professional service provider that offers world-class services in Audit, Tax, and Consulting to clients in various domains for both public and private sectors. The team has combined with the global network to serve clients and support them by all means.
4. EY
Being a global professional service provider, EY offers audit, tax, and advisory services to clients from different industries EY has dominated the finance domain with its quality services and professional team in Bahrain and works with both local and international clients.
5. Deloitte
Deloitte is one of the largest accounting and consulting firms in the world, with a strong presence in the country. They offer the best services in audit, tax, consulting, and financial advisory to clients in various industries.
Here are the key services offered by Deloitte:
Audit & Assurance

Financial Advisory

Consulting

Tax

Risk Advisory
6. Grant Thornton
This global accounting and consulting firm provides Audit, Tax, and Advisory services to clients across the globe. The firm also provides efficient business consulting services to both startups and helps established companies in enhancing their existing strategies.
7. BDO
BDO has placed itself among the top audit firms list in Bahrain. The company provides high-quality Audit, Accounting, Tax, and Advisory services for all domains and industries across the world.
Need For Audit & Accounting Firms in Bahrain
Most audit firms in Bahrain stay updated on the latest technologies, are highly responsive to client requirements, and focus on improving themselves. They have remarkable communication skills, time management, and organizational skills to adapt to challenging situations.
Here are the key reasons why you need audit firms in Bahrain:
Highly experienced and certified

Potential to make wise decisions

Understands various business requirements
Common Accounting and Auditing Services in Bahrain
Some of the commonly demanding financial services found in Bahrain are,
Accountants and Auditors in Bahrain
Choosing the most suitable audit firm for your business is difficult as every service-providing company promises its best services. BMS Auditing's accountants and auditors in Bahrain work together to provide businesses with the best possible financial services. They use their expertise to understand each client's financial needs and goals and develop customized solutions.
Our auditors ensure financial statements comply with accounting standards, while our accountants maintain accurate financial records and provide advice on accounting practices. Our team is dedicated to delivering high-quality services and building strong relationships with our clients.
BMS Auditing is the most recommended audit and accounting firm in Bahrain you can always rely on. We maintain professionalism and give utmost importance to the client's time. Hence we ensure their issues are solved and their queries answered.
Contact the BMS team in Bahrain for the best-in-industry services.