BMS Auditing is the leading audit firm in Oman, offering a range of audit services in Oman, including financial audit, internal audit, tax audit, stock audit, etc. The audit is an integral part when it comes to providing services, irrespective of the size of the business- a startup or an established organization.
Audit services in Oman have been helping businesses in their economic growth, thus providing a healthy environment for startups as well as large organizations. There has been a high demand for auditing services in Oman.
Why do we need an Audit?
Is audit services mandatory for every business? Yes, it is quite important for survival in the business market. Auditing enables you to assess the current situation of your company and identifies the possible threats in the near future. There are several key reasons for the need of an audit such as:
Effective functioning: The audit report provides necessary details that enable us to find the limitations of the company, and also help in the effective allocation of resources to different functions.


Detecting risks: Once they go through the data, the auditors evaluate, assess and identify the possible threats that could affect your company.


Providing Support: If the audit report looks positive, it would attract more investors and also earn more confidence of the stakeholders. This factor also enhances the goodwill of the company, thus improving the credit rating.


Strengths and weaknesses: The audit report includes the necessary details enabling us to find the strengths and weaknesses of a company. The information can be used by managers and investors
Available Audit Services in Oman
BMS Auditing Oman is providing the best audit services in Oman, which are as follows:
Statutory Audit

Internal Audit

Due Diligence

Financial Audit

Risk Management Audit

Stock Audit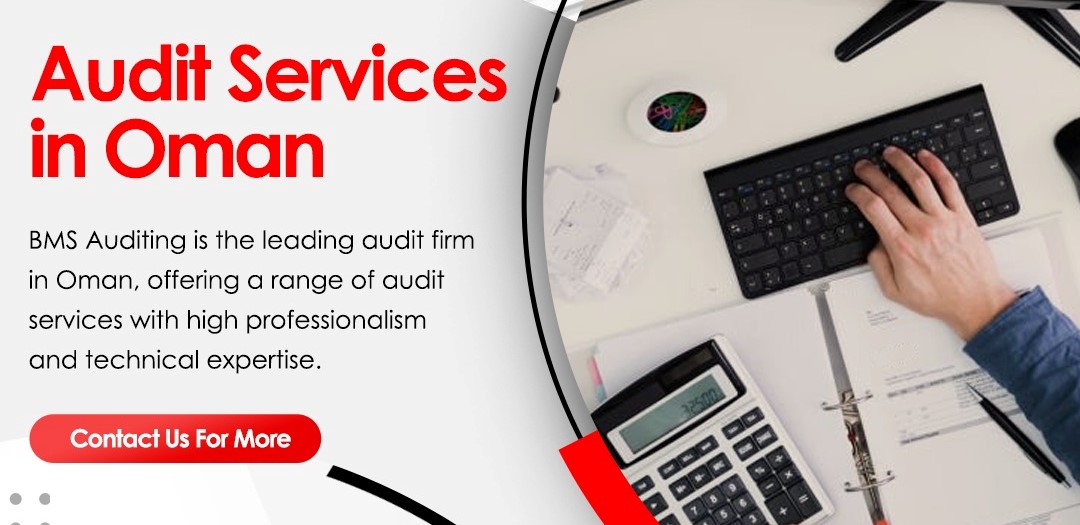 Government entities in Oman must conduct statutory audits to monitor and assess their performance. A statutory audit in Oman is a legally mandated audit that is performed to assess the company's financial situation and financial records.
The BMS's statutory audit department performs audits in accordance with different worldwide accounting and auditing standards in order to conduct fair and accurate audits for Oman's many stakeholders.
Internal audit helps the top management and board of directors to identify and analyze the risks and threats that will impact the stability and performance of the company.
Internal audit services in Oman deliver insights and foresight across your business to tackle the future and helps to build confidence to move faster and act decisively.
Due Diligence in Oman is a procedure used in businesses to examine all financial transactions and performance. Due diligence may be critical to the success of a deal by accurately analyzing the worth of possible acquisitions and investments.
Our due diligence professionals in Oman have extensive expertise in assisting customers in maximizing transaction value by ensuring a seamless due diligence process.
The purpose of a financial audit in Oman is to provide credibility to a company's financial situation and performance. A corporation may get significant and worthwhile insights into its operations by using financial audit services.
BMS Auditing Oman is providing quality financial audit services in Oman by collecting evidence and demonstrating a high degree of confidence that all standards are met throughout the financial audit operations.
The risk management and internal control system of the firm is intended to identify risks in connection to the attainment of business goals and to provide appropriate risk responses.
To deliver risk management audit services in Oman throughout the whole risk spectrum, we combine the capabilities of our specialist risk management audit experts with extensive industry knowledge.
The stock audit's goal is to confirm and verify the correctness, existence, and ownership rights, as well as to assure the value of the objects in the company's inventory.
Our stock audit services in Oman guarantee that your stock is accurate by updating the physical stock that matches book stock and helps you to find out discrepancies between book stocks and physical stock.
The audit firms in Muscat are listed as Capital Market Authority, the Oman acclaimed auditors, which provides auditing services to financial services companies and insurance companies.
BMS Auditing provides the best audit services in Oman with its professional and international standard audits. The teams at the audit firms in Muscat are highly skilled at delivering incomparable auditing services, consulting and legal services through a blend of technical expertise along with a global outlook and required knowledge about the local market.
BMS Auditing Oman
The audit firms in Oman have teams with a great knack for understanding the strategic needs of their clients and providing customized auditing services to fulfill company-specific requirements. BMS Oman believes that auditing is essential in building reputation and reliability, thus becoming significant in the global economy.
The audit firms in Oman provide the best auditing services, along with risk advisory, tax transactions and corporate legal by the professionals who combine customized and regional advice using national resources and experience.
Our advisors at BMS Oman would be delighted to assist you and provide the right solution to all your issues. For any queries, feel free to contact us.