BMS Auditing Dubai is one of the Top 7 Audit Firms in Dubai UAE. Auditing services are mandatory in UAE and businesses must choose the best audit firms in Dubai UAE. There are several Auditing firms providing qualified auditing services in Dubai UAE and BMS Auditing Dubai ranked at the top of the list of best audit firms in Dubai UAE. The audit is mandatory in UAE and the business must choose the top audit firm in Dubai for the audit.
Auditing is one of the major activities in accounting that helps you understand the actual financial position of a company. One of the primary legal requirements is that businesses in the UAE must have their accounts audited, and must maintain strong financial controls.
One of the important requirements you need to fulfill in Dubai is that your business accounts must be audited and must maintain strong financial controls. For this, you can find a wide range of audit firms in Dubai. Another important aspect is that you should NOT choose a partner based on the "brand identity" - a strategy that is quite common but wrong.
Top Audit Firms in Dubai UAE
Choosing a professional, qualified and experience auditing firm in Dubai is one of the most important decisions you have to make in order to grow and protect your business. Let's have a look at the list of top 7 audit firms in Dubai, UAE:


BMS Auditing – international audit firm and most suited for all sizes of businesses, moderate audit fee, highly qualified, experienced and professional audit team in UAE.
Deloitte – most suited for large and publicly listed companies, very high audit fee, highly qualified and competent audit team.
PricewaterhouseCoopers (PwC) – most suited for large and public listed companies, high audit fee, highly capable audit team.
KPMG (Klynveld Peat Marwick Goerdeler) – most suited for large and publicly listed companies, very high audit fee, highly qualified audit team.
EY (Ernst & Young) – most suited for large and publicly listed companies, high audit fee, highly qualified audit team.
Xact Auditing – most suited for SMEs and large enterprises, low audit fee and experienced audit team.
Grand Thornton - most suited for public and private companies. high audit fee and a very well-equipped team of auditors in Dubai.
KNOW MORE ABOUT THE TOP 5 AUDIT FIRMS IN OMAN
BMS Auditing
BMS Auditing is listed to be the top among the best auditing firm in Dubai. BMS has offices spread across 8 countries in the world and provides high-quality services in audit, accounting, VAT, business consultancy, tax compliance, feasibility study and more. Established in 2011, the company promises to be high-quality in every work they do. The BMS team is passionate about providing professional services to client companies and the community. BMS Auditing is the leading auditing firm in UAE, Saudi Arabia, Qatar, Bahrain, Oman, India, UK and USA.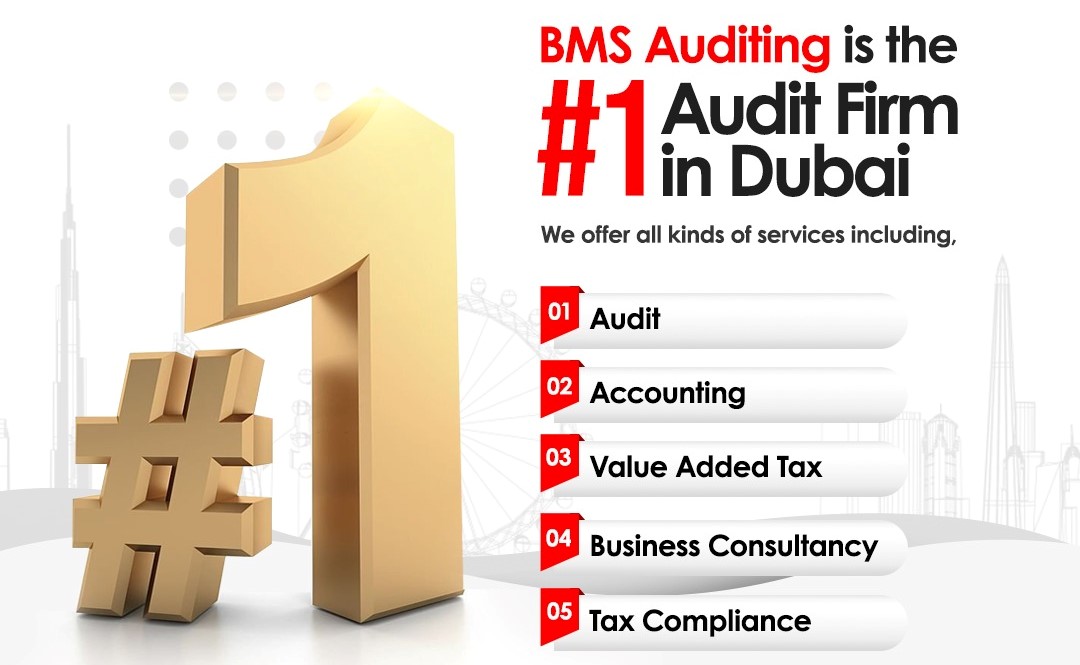 Deloitte
Deloitte has achieved the position of being one of the "Best 4" among financial professionals. Presently the company is the proud employer of over 225,000 people, possessing international experience in auditing and accounting records of other larger companies.
PriceWaterhouseCoopers (PwC)
Established in 1998, this company has topped as the best audit firm in Dubai. This auditing firm has been operating in over 100 countries across the globe, guiding various kinds of businesses in achieving growth and making an identity. The firm provides premium advisory, taxation and assurance services.
KPMG
Established in 1987, this auditing firm has a flawless brand image and provides efficient and high-quality services. KPMG manages various departments of auditing, assurance, consultancy as well as advisory services in 155 countries. This auditing company holds various financial and auditing services under one umbrella.
Ernst & Young (EY)
EY auditing firm in UAE provides Audit Assurance, taxation, and advisory along with transaction services. The EY team comprises professionals from various backgrounds and cultures, who prioritize honesty and hard work, thus making them reliable and trustworthy.
Xact Auditing
Xact Auditing is at the forefront of innovation and is in a constant strive to enhance the quality of services. They are committed to assisting their clients through good and tough times. Their highly experienced and professional people have the strategic insight, drive, and dedication to deliver results.
Grand Thornton
Grand Thornton listens, builds relationships and understands the client's concerns and becomes proactive and agile. The team aims to deliver personal experiences with a collaborative technique. Grand Thornton provides supreme quality services in auditing, advisory, taxation, compliance, restructuring and more.
Why is BMS Auditing a top auditing firm in Dubai?
BMS, being one of Dubai's premier audit organizations, offers excellent services to a wide range of enterprises in a variety of industries. BMS auditors are picked after extensive investigation and review of their credentials. BMS is committed to offering specialist audit services in Dubai with the highest expertise and effectiveness in service delivery.
BMS has the best Tax agents in UAE who offers the UAE's top tax services that every business needs i.e., VAT Services in Dubai and Corporate Tax Services in Dubai
What exactly does BMS do?
1. Improving the accuracy and completeness of the client's financial statements
2. The accounting framework ensures the display of the client's accounting records.
3. Assisting in the implementation of effective corporate governance practices
Audit Process of BMS Auditing Dubai
BMS Auditing offers a team of accountants and specialized experts that are competent to give investors and other stakeholders an honest and critical review of the company's financial statements. It has various distinguishing traits that set it apart from the other audit businesses in Dubai.
Budgeting and planning:
Conducting a detailed review of the organization's financial activities and records results in the assessment of certain categories of assets, liabilities, income, and expenditures. This gives the company the opportunity to create better financial strategies, budgets, and choices in the future based on an auditing agency's information and results.
Compliance:
BMS ensures that company operations and financial reporting correspond to legal and professional standards.
Business/System Improvement:
BMS Auditing's audit methodology includes ideas for techniques to increase internal controls, business systems, reporting architecture, production efficiency, governance, and working culture by objectively assessing typical business processes undertaken by the firm.
Assistance in Obtaining Financing:
BMS Auditing in Dubai identifies any holes in the company's accounting system and gives advice on how to save money and make the greatest use of resources possible. Businesses that function more effectively and keep accurate financial records are better positioned to attract investors and raise outside cash via mutually beneficial relationships.
Saving money on taxes and legal fees:
Avoiding erroneous accounting information upkeep may result in a company's tax bill increasing. Overstating revenue, inventory value, or other goods may greatly raise the amount of taxes owed by the firm. This may result in an audit of your personal or corporate tax returns. BMS Auditing assists organizations to deliver precise accounting information to lenders, investors, and the general public in order to avoid legal difficulties.
Choose the Best Audit Firms in Dubai UAE
Choosing and auditing a firm is a significant task and must be done thoughtfully. You need to hire an audit firm that adds value to your business by identifying wrongdoings, staff weaknesses, and internal control weaknesses. Most importantly, you need a firm that provides recommendations to address the issues identified during the audit.
On the whole, the best choice seems to be our surprisingly economical firm buried at the top of the pack: BMS Auditing!
Give us a call and talk to one of our account experts today! Get a top-rated accounting and audit firm in UAE with an extraordinary reputation working for you today. We would love to hear from you, Contact BMS Auditing Dubai UAE!