VAT consultants in Dubai help entrepreneurs adopt smart tax planning techniques so they may manage their tax liabilities and maximize working capital while ensuring VAT Compliance in UAE. VAT consultants have been crucial in assisting companies to comply with the VAT regulations of the UAE ever since the VAT was implemented in Dubai on January 1, 2018.
They ensure businesses maintain compliance with VAT regulations while increasing their financial efficiency by offering advice and support through VAT consulting and compliance services.
The UAE imposed Value Added Tax (VAT), a 5% tax on goods and services, in January 2018. While the majority of goods and services are subject to the 5% VAT rate, some specific categories of goods and services are designated as zero-rate or exempt rates. Businesses had to make sure they were appropriately applying and reporting VAT on their transactions in compliance with the new legislation when VAT was imposed in the UAE. This significantly affected compliance tests.
VAT Consultancy Services in Dubai
Our team of VAT Consultants in Dubai is highly knowledgeable and skilled in a range of taxation and VAT services, such as
BMS Auditing is devoted to offering these VAT Consultancy services in UAE for ensuring that every aspect of your organization complies with the rules established by the Federal Tax Authority (FTA). You may count on us to handle all of your tax obligations and ensure compliance with Dubai's tax laws.
The least appealing scenario for small firms is the possibility of running into legal barriers. Non-compliance with existing VAT laws can result in severe penalties in the UAE. Using the services of VAT advisory companies can offer essential guidance for effectively handling VAT obligations. You can give priority to your core operations by having skilled specialists assist your company.
The comprehensive VAT related services are provided by VAT consultants, including:
Registration and cancellation of VAT

VAT advisory

Explanation of the VAT regulations

Assisting with payment submissions to the Federal Tax Authority (FTA)

Reviewing purchase invoices

Conducting internal VAT audits

Mitigating VAT liabilities.

Applying and Claiming VAT Refunds
BMS Auditing is an FTA Approved Tax Agency in UAE with a team of VAT Consultants in Dubai to offer comprehensive VAT-related services with 100% compliance.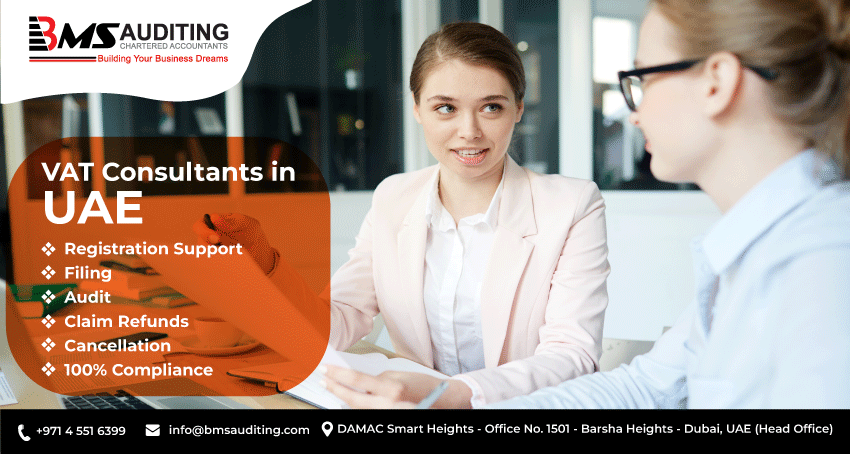 VAT Advisory
VAT Agency in Dubai informs their clients about their tax obligations by being informed experts, reducing the possibility of improper payment computations or the application of incorrect tax rates to consumers. Trusted VAT consultants use their broad knowledge to help businesses navigate the complex tax system, assuring proper compliance and successful navigation.
VAT Filing
Precision is essential when it comes to VAT filing. Reputable VAT consultants in Dubai go above and beyond to ensure complete verification of details. Businesses are shielded from making frequent errors during tax registration and return filing by working with seasoned tax experts. Working with seasoned experts protects against any errors and guarantees accurate adherence to VAT requirements.
VAT audit
It is important to remember that the Federal Tax Authority (FTA) only gives businesses a 5-day window to reply to VAT/Tax audit inquiries. Leading VAT advisors are exceptional at preparing their clients for demanding tax audits. Following VAT filing, they help companies understand the required supporting documents. Additionally, these consultants carefully compile important field data to make sure their clients are ready for VAT audits.
VAT Compliance
The ability of consultants to manage risks is a key benefit of using their VAT advisory services. Our Tax Consultants in Dubai with the necessary expertise can spot potential compliance problems and provide clients with advice to keep them on the right track and away from pitfalls. Businesses can reduce the risk of unintended non-compliance with VAT requirements by collaborating closely with these VAT Agents in UAE who offer Tax compliance services and protecting themselves from possible consequences.
VAT Deregistration
If your company's annual revenue is between Dh187,500 and Dh375,000, VAT registration is not required. However, establishing your business might open up a host of advantages that are sometimes disregarded. Reputable VAT experts help their clients take full advantage of these opportunities. When your revenue falls below a certain threshold or you wish to stop selling goods/services that are subject to VAT, You may need to de-register/Cancel VAT for which we offer VAT Deregistration services too.
Advantages of VAT Consulting in Dubai
Using BMS for consulting has several advantages. The following are the main benefits provided by our VAT consultants:
Reviewing and Analyzing efficiently: To ensure accurate and error-free taxation, our VAT consultants carefully review and analyze your client documentation and business contracts. The timely and easy filing of VAT reports is made possible through this approach.
Training and Resources: We set a high priority on educating your employees on VAT regulations and the VAT filing procedure. In addition, we give customers access to the technology and pertinent resources required for meeting tax and VAT obligations.
Compliance & VAT Filing: The BMS team responds to your questions and concerns about VAT, helping you to comply with VAT regulations and assisting you in the VAT filing procedure.
VAT Agent in UAE
Effective administration of your financial records is necessary for meeting complex tax regulations and guaranteeing compliance in Dubai. Why not hire the best VAT consultants in your community to run your company? BMS Auditing is a renowned tax agency to have a team of FTA approved VAT Agents in UAE that specializes in VAT consulting, and is qualified to handle your tax matters with extraordinary skill.
With a team of highly qualified VAT consultants who provide thorough support and direction on all VAT-related concerns. We make sure your company continues to abide by the rules and regulations established by the FTA.
The VAT consulting services team at BMS in Dubai efficiently offers professional guidance throughout the VAT registration process. We are devoted to providing top-notch VAT services and work hard to uphold the highest standards of excellence.
You can be confident that you are in safe hands when you choose to consult with BMS for VAT services. Our VAT Agents are extremely competent, and dependable, and have a wealth of knowledge in the field of VAT. With our expertise, your company will continue to operate by VAT laws and regulations. If you have queries, please don't hesitate to contact us.