BMS Auditing helps you set up a Business in Saudi Arabia through three processes, 1. Planning & Strategy 2. Incorporation and 3. staying compliant. A clear explanation of the three processes and other important aspects to establish a company in KSA was mentioned in this article
Firstly, let us consider all the aspects of KSA and the benefits that come while establishing a company in Saudi Arabia.
Why Choose Saudi Arabia for your Business?
The Kingdom of Saudi Arabia is easily accessible to countries such as Asia, Europe, and Africa. Besides this advantage, the Saudi government has attempted to bring in more businesses to the country. The Saudi Arabian government launched the Vision 2030 initiative in 2016 to enhance the investment scenarios in KSA, drive more foreign investments, and encourage higher domestic and international private sector participation in the economy.
KSA summarizes certain significant business initiatives and opportunities to bring in more investors. The major benefits of Vision 2030 are as follows:
Consideration in tax for the underdeveloped regions in KSA

Rights to buy a property and enabling businesses to sponsor own employees

Income tax minimized, VAT and customs duty exempted
Did you know? KSA has the safest and the most secure business atmosphere and political strength providing lower energy costs and complete ownership in the wholesale and retail sectors through the privatization program.
Here are some major improvements to attract foreign investments in Saudi Arabia:
A one-stop mechanism that simplifies and eases business startups

Protecting minority investors

Easily enforcing the contracts

Easily available credits through the new insolvency law as well as secured transaction law

Online platform to enable construction permits

Trading and investments across the border

Easily resolving insolvency and financial restructuring

Regenerating the availability of power
Steps to start any business in Saudi Arabia
With the Policy Reforms in progress, KSA is consistently seeking initiatives to privatize and working towards making the company formation process easier and more convenient. You can expect to complete the company registration and carry out the business activities in six months.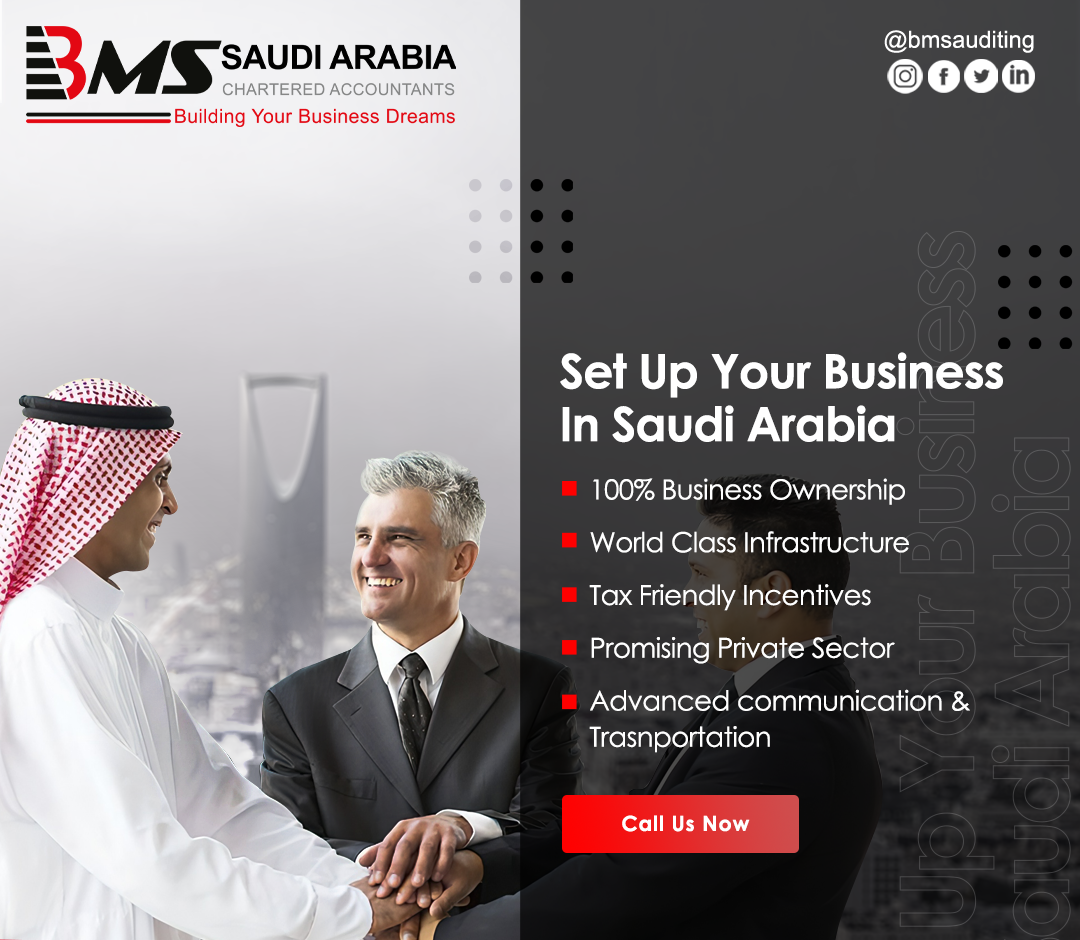 Planning & Strategy- Pre- Incorporation
In this process, adequate attention is given to the optimum business type, capital, and license requirement. These are the key items to be considered in this phase:
Name of the business/company

Business entity type- LLC, Branch office, etc.

Documents such as Business Licenses, Certificates of Incorporation, Board resolutions, Power of Attorneys, etc.
Incorporation
Once the planning and review processes are complete, company registration can be started, simultaneously working on various steps to optimize the duration. The steps are:
Apply for an Investment license

Articles of Association

Register Company name

SAGIA Foreign Business Investment License

Register for MERAS

Create Company Seal

Register at the Chamber of Commerce

Open Bank Account
Post-Incorporation & Staying Compliant
After incorporation, you need to initiate the following activities to complete the whole process of company formation in Saudi Arabia:
Saudi Employment visa

Converting Bank Accounts into corporate bank accounts
What is the cost to set up a company in Saudi Arabia?
The minimum share capital for establishing a private business in Saudi Arabia is 2 million SAR. The minimum capital needed for a general partnership firm in Saudi Arabia is 500,000 SAR, while the minimum capital requirement for a partnership limited by shares in Saudi Arabia is 2 million SAR. You may add the conventional fee for the business setup consultants to the expenditure.
Start your Business in KSA with BMS
BMS Consultancy Saudi Arabia has remarkable experience in serving numerous clients through their Business Setup Services in Saudi Arabia. The BMS team maintains consistency in setting up 100% remote-possessed components under SAGIA/MISA guidelines, making business setup simpler, quicker, and financially informed.
Need Help with company formation in Saudi Arabia? Call BMS Consultancy in Saudi Arabia.